PRODUCTS

You Have A Self…from the beginning
For the 13 year old in all of us…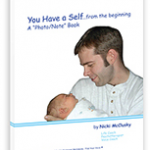 Have you "honored" everyone else in life except you? Have you found and polished your core diamond—your True Self? Do you long to live from that beautiful, real place in you, but don't know how? Has your "false Self"….the Self that others would have you be, brought you to a place you can no longer tolerate?
This book is for you if you've answered "Yes" to any of the above questions. Filled with 51 pages of pictures and prose designed to help you notice, find and honor your True Self— your main diamond —you will develop insight and compassion for YOU. You will solidify your inner resolve to find and honor your true Self for the rest of your life. Your Companion Workbook gives you a place to work it all through—giving your true voice a time and place to speak.
$8.95
Add to Cart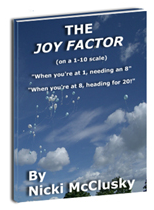 On a scale of 1-10, how would you rate your level of inner joy? If you're at 2, heading for 10, this book will help you develop 16 powerful, practical ideas for ramping up your joy level. If you're at 8, heading for 20, you will find ways to "soar" in this book. Starting with the basic tenents of "Joy," you will quickly move upward into developing great skill regarding inner Self talk and Spirit soaring. One page per concept…it is loaded with Self-help ideas that guarantee more Joy production in your life. Be prepared to shift your mind and your heart as you ponder each concept. You'll love doing so!
$4.95
Add to Cart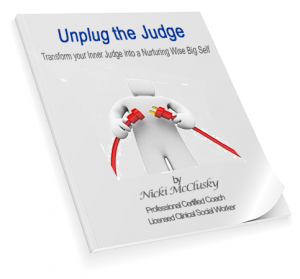 In this short, powerful E-book, you are helped to gain new understanding about ways in which your inner Judge creates chronic, longstanding self-criticism that you can no longer tolerate—self-criticism that makes your business stay small and your personal life, unhappy.   You come to realize that your young critic/judge is usually behind the scenes, needing understanding, containment and emotional modulation by a much more mature part of your self—a Nurturing Wise Big Self. 
Learning how to take care of yourself with wisdom and kindness, you gradually discover how to transform the energies of your Judge—removing all forms of self-criticism that destroy—so you can build a thriving business and a joy-filled life.
$4.95
Add to Cart

I totally loved Unplug the Judge! It really opened my eyes to things I hadn't been quite able to put my finger on. I really loved how you walked me through a complex process with such ease!    ~  Sally C. Taylor is an Intuition Coach and Facilitator.
Reach Higher I: 20 Lessons in Citizenship
Do you know how to become an excellent citizen of the world and in your own country?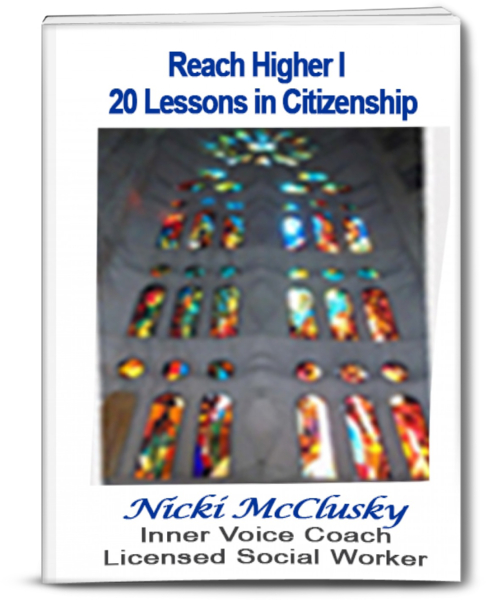 Are you ready to do your part? Do you need some inspiration and insight into how others "serve" the world—inspiration that will motivate you to do likewise?
Dive into this beautifully pictured book (gorgeous shots from Europe) that will spark your imagination and move you into action. Become the kind of world citizen you long to be and admire in others. Let these 20 unusual lessons move you to new heights of contribution. The world needs you!
$8.95
Add to Cart

Reach Higher II: Energy and Change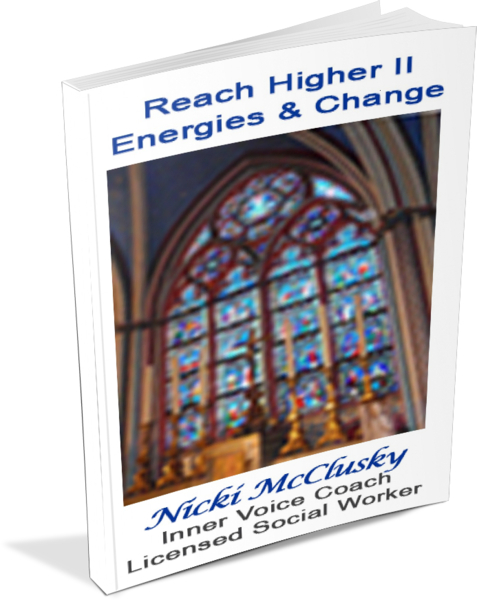 38 inspirational messages and beautiful pictures will motivate you to join the  transformation that is taking place across the globe. The world is "cracking open" to the  possibility of an energetic shift—one that is real, comprehensive and soul-based.
 Get this magnificently crafted E-b book, becoming inbued with its message...create  constructive energy for change. Awaken to the power of constructive, healthy energy  fueling the planet and one another. Bask in the tranquility of Nicki's photography; ponder  her unique perspectives about energy and change . You'll be thrilled you did!
$8.95
Add to Cart
"Nicki McClusky invites us into deeper appreciation and understanding of energy in its many forms in our lives.  Her words inspire us to "reach higher" and respond to life's callings.  Her photographs invite us into energy, beauty, and potential through art, architecture, work, relationship, and self.  To be more personal, Nicki's words speak a truth that my heart knows already.  Her photographs beckon me into stories my heart wants me to hear.  Put simply, this book make me smile and calls me to my next steps.  Thank you, Nicki!"
– Alan Seale, Founder and Director of the Center for Transformational Presence Leadership and Coaching, Author of Intuitive Living, Soul Mission * Life Vision, The Manifestation Wheel,
The Power of Your Presence, and Create a World That Works
Reach Higher III: Meditations for You
This eBook is filled with 66 inspiring pictures and prose, all designed to help you achieve inner reflection and peace.  The seven sections of the book include: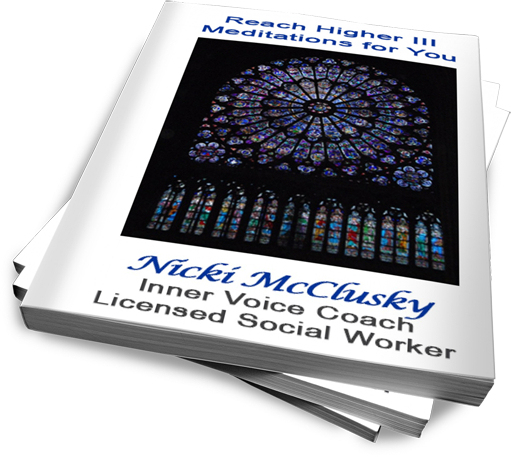 Being Still

Opening Inner Reflection

Re-Thinking, Re-Looking

Healing

Along the Way

Discovery and Movement

Power Choices
Each page of the book is dedicated to you, the reader, encouraging your inner growth, your sense of inner peace, and your ability to look at yourself and the world through transforming eyes.
You can either jump into the middle of a section that calls to you on a particular day, or begin at the beginning, settling yourself into quiet time for soul and spirit expansion.  Honor yourself by choosing what works for you.  May you have a blessed journey.
$8.95
Add to Cart
Staying Stuck in Unconsciously Accepted Concepts (UAC's ) Vs. Working Through UAC's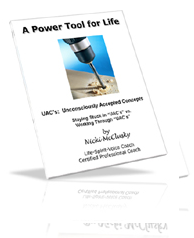 Where are you stuck? What limiting beliefs are "running the show"? Do you realize that an Unconsciously Accepted Concept has power over you, making it impossible to change/get unstuck? Learn to identify your UAC's, find out what they've been "doing" for you, and then work them through. Release your Self from the grasp ofUnconsciously Accepted Concepts , like "I do not deserve to be happy," freeing your Self to create a new and powerful mindset/conscious concept. This "Power Tool" is a dynamic one you'll use for the rest of your life. It will empower you to move from debilitating unconsciousness to powerful consciousness; you'll re-decide, "I deserve to be happy and will find a way to do so!" You'll move from "I can't possibly do this," to "I will accomplish my goals, step by step!"
Feelings, thoughts and experiences are going to shift dramatically once you move from Staying Stuck to Working Through your UAC's. Get your Power Tool working for you now!
$4.95
Add to Cart
Find Your Voice: An Introduction to Vocal Basics and the Voice of Your Soul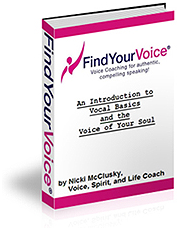 ~ Home Study Course ~
Do you long to be a compelling, authentic speaker, yet don't know how? Is your voice too high, too low, monotone? Do you speak too fast? Do you feel insecure about speaking your mind or terrified to do public speaking? Is your breathing too shallow? Do you feel like you are revealing too much or too little about your inner world (your diamond mine) when you speak?
Dive into this book that shows you the way to speak authentically and compellingly… finally speaking from the voice of your Soul. It is filled with "vocal basics" you'll master as you travel into deeper waters about soul-speaking, mastering fear, what you're really afraid of from an audience, etc. Come and "mine your diamonds" in this practical and insight-deepening work about your voice and what you express. Learn why your voice is so very important. Maximize your speaking potential by coming to terms with issues that prevent you from sounding your very best in any situation.
$ 24.95
Add to Cart